31
Dec
20119 comments
#28c3: "The coming war on general purpose computation" as THE 2011 speech
Take all of the political speeches of all EU Commissioners, all Members of the European Parliament, all Presidents of any of the EU institutions in 2011 and all other talks of EU officials, EU lobbyists and so forth on innovation, technology, the internet, globalisation, democracy in the 21st century.
Now replace all these speeches with the following 30 minutes #28c3 talk (plus 25 minutes of Q&A) by Cory Doctorow on "The coming war on general purpose computation".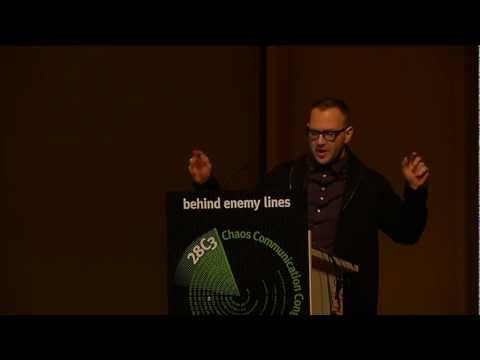 Similar to general nature of the Chaos Computer Congress I've blogged about yesterday, it's a speech (transcript) that is only at first sight about technology but in reality it is about the future of society and the future of politics.
I admit that I haven't heard about Doctorow before, and I thus also first ignored his speech. This ignorance would have been fatal, as the speech is, on the last day of the year, the first one that made me actually think about things I haven't thought about before. The speech is also, compared to anything that I've heard coming out of EU mouths this year, well-crafted both in style and in substance, and thus a pleasure to listen to even if one might disagree.
It's hard to summarise Cory's talk concisely, but the central thought I take away is that one of the main political struggles with regard to computer technology in the next years will be to prevent policy makers – our representatives – from favouring limited-use machines over general purpose computers.
This will be particularly important because limiting the purposes and tasks that computers are allowed to do – out of fear for things that could be done that are anyway impossible to prevent – through political regulation will come with implementing measures in the form of technical solutions such as sophisticated surveillance technology. These extensive surveillance and prevention techniques will be used to prevent citizens from freely using computers, undermining the positive social and political developments that computers have brought to our society.
This is even more problematic as these measures will fail such as implementing copyright has failed, because capable users will always find ways to circumvent pseudo-legal and related technical limitations.
And so finally the limits set to computers through regulation will only affect those most in need of the freedom to make free use of computers to organise, to educate, to share and to communicate freely without being dependent on the good will of large powerful players who want to define how individuals should (not) behave in order to protect their economic or power interests.
In this sense, the big fight over (the right to) general purpose computing is one of the fights for the freedom of citizens, and Cory Doctorow's speech is thus a call for a liberal society that was disguised as a talk about computers and copyright. That's a political vision EU politics was totally unable to provide in a year dominated by Eurozone summits that haven't lead to anything, and in particular not to motivate true innovation and the active involvement of citizens in politics and democracy.
Thus let's forget about the PR exercises of Europe 2020 or the Digital Agenda, and let's get back to real visions about society in 2012 EU politics and care about the fights that actually matter. Thanks, Cory Doctorow for reminding us!