3
Jul
201220 comments
The Two Faces of Barroso: The Technocrat vs The Politician
In general, I think that Barroso is not the right EU Commission President in these times of crises. He lacks the profile, the passion, the liveliness to convince citizens across the continent to see the value of a common European project, as flawed as it may be in practice.
His only luck is that European Council President van Rompuy has even less charisma. This apparent lack of charisma of Barroso is especially visible when he is reading his speeches. And he is reading most of his speeches.
Yet, today was again one of those days where you could actually see the two faces of Barroso, the one that shows the charisma-lacking technocrat and the other one, the rare one, of the passionate European politician, a politician who is worth listening to.
If this morning you had switched into the debate in the European Parliament on the results of last week's European Council early on, when Barroso gave his 13 minute summary speech (text version), you might have also taken a sleeping pill instead. Zero emotion, technical blabla, close to no political rhetoric, failure to build a consistent argumentation.
But then, at some point during the morning, I started seeing tweets like these from Members of the European Parliament:
"‪#Barroso‬ turns against increasingly soloist rhetoric by European heads of government after Council meetings. Gets ovational applause by ‪#EP" @JudithMerkies

"Barroso has gone off script again in EP debate, looking for applause. His spin doctors should be worried." @grahamwatsonMEP
And indeed, Barroso's closing remarks at the end of the debate look so much different, so much more passionate, so much more human, just watch the final part of his remarks: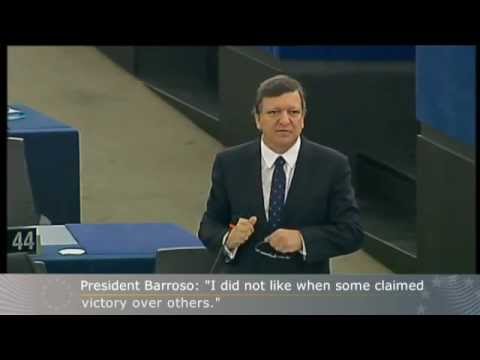 If you look at the two speeches as a Wordle, you can directly see the difference. In the first speech, following "European", institutional terms such as "Council", "Commission", "President" and auxiliary verbs like "must" and "need" as well as the mixed verb/noun "work" dominate:
In the second speech, inclusive words like "together" and "one" or more colloquial terms like "thing" gain in importance. And, a country like "Britain" is picked specifically to address political opposition.
But more than these visualisations, you see how different Barroso speaks, how passionate he can be if he's just let free.
My guess is, that he has the worst speech writers in the world, because whenever Barroso is given a text to read, he seems like a dull technocrat, insecure of the words put in his mouth and bound to language that he feels uncomfortable with. When he's let free, he looks like someone who has convictions, thoughts of his own, and argumentations in mind that actually make sense.
Sure, the politician Barroso may be more controversial, more prone to mistakes, but in times of crisis Europe actually needs the politician more than then the dead corpse he appears to be when reading pseudo-polished speeches no one likes to read or listen to.
Honestly, I prefer to disagree with a passionate political Commission President than to be indifferent to a technocratic machine. So please, President Barroso, kick out your current speech writer(s) and just speak freely – or get people in your team who actually understand how you think, how you speak, so that we get good speeches for a living European political debate that is worth discussing!
Update (19.22): By the way, you know you get "the real" Barroso when he takes off his glasses during a speech. I suppose these are his technocratic glasses.
Picture by ppdpsd (flickr) | BY-NC-SA 2.0