9
Nov
2013
Minecraft: European Union edition (first steps)
Watching the ARTE documentary on video games earlier this week, seeing @notch – a Swede with 1.4 million followers, take that @carlbildt (240k followers) or European Parliament (1.08 million Likes on FB) – appear on the Late Late Show on Thursday, and remembering the failed attempt to create (i.e. bring to active life) Citzalia, I wondered whether there was an EU Minecraft world.
And, yes there is a "European Minecraft Union":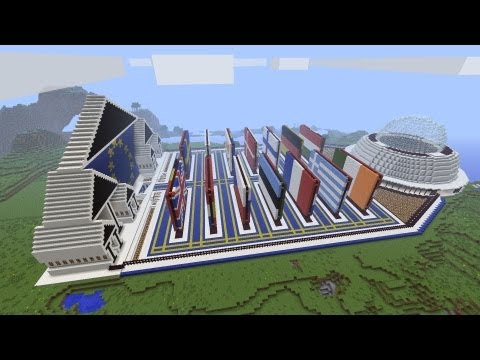 You can watch the full 8 minutes to get yourself into the mood, but maybe you jump to minute 3.48 after all the flags are through (which takes a bit). Then, you get a series of funny little references:
"Let's enter the stage and make a speech. […] For today's proposal is that perhaps there needs to be a new European standard that red stone [?] lamp installations in buildings must come with an on-and-off switch. Installations that are permanently on are wasteful of energy. – Perhaps I will live to regret that. Such a proposal would mandate radical redesign of this building."
You will go to a storage room that looks very much like the boxes that move between Brussels and Strasbourg, a low budget cafeteria (not to be too wasteful with public money), a dormitory where nations can sleep together and toilets with windows that demonstrate how transparent everything is.
That's potentially just the start of what you can do, and it only costs some 20 European bucks. Anyone?
PS: Number of (non-spam) mentions of a game like Minecraft that has reportedly sold 33 million copies across all platforms on the Europa-servers? Less than 10.